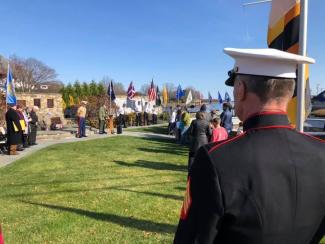 What is Veterans Day to You?
Veterans Day and Memorial Day have always been very important in my family.  Veterans Day was always very important because my father was a Navy Veteran and he was ALIVE to celebrate.  Veteran's Day at our home was as important as Thanksgiving.  That is what we were, thankful that my father had made it through his 4 years and several tour of duties home safely.  I have lots of family members from grandparents, to parents, to nieces and nephews who have chosen the military life.
My father taught me so much about those that chose to serve for this Country and to thank them for their service not just on Memorial Day or Veterans Day, but EVERYDAY. 
Now that my father is no longer with us, Memorial Day has taken precedence over Veterans Day.  You see; as many of you know Veterans Day is for those that served that are still alive.  Memorial Day being a holiday for those that served that are no longer with us.  Having said that….Every Veterans Day and Memorial Day brings up mixed emotions  - not having my father here, I have made it my mission to support Veterans (past, current and future) in helping to raise money, awareness, scholarships – anything they need.  I am on the Board of the Auxiliary of the George H. Mealy Post 118 in Cohasset, MA. 
This year, I asked my son and his friends why they had the day off (I did not smile, but I digress) – I really wanted to know if these kids really appreciated and knew why they had the day off from school.  I was pleasantly surprised to learn that they did indeed know the difference between Veterans Day and Memorial Day.
So with that, I did take a vacation day as every year at my local post, we cook and serve hundreds of Veterans breakfast and lunch.  We then have a wonderful dedication ceremony where young children get chosen for the best Veterans Day essays and get to read them aloud at our ceremony.  I am very lucky to be involved and take my one son to these events and help serve food, shake hands, get to know these people and hear their stories.
My son is old enough now (12) to understand and really respect a good story.  He misses that he does not have his grandfather to tell him these stories any longer.  So it was a very long day, it was chilly, but the sun was shining beautifully. 
I am quite sure that my father teaching me the sacrifices that these folks make is being passed down to my son and for that, I am once again "thankful".  I know my father would be very pleased.  Please enjoy some photos from Cohasset's Veterans Day.
If you happened to serve in the Military, I THANK YOU FOR YOUR SERVICE!