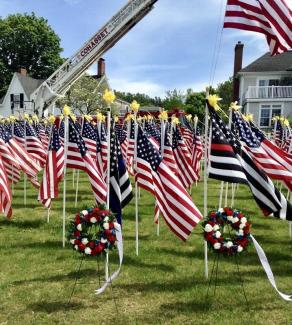 Thank You for the ULTIMATE Service
Memorial Day:  A day when the United States mourns those members who died in active military service.
How do you honor the men and women of our country who paid the ultimate sacrifice for our freedom? Well, if you live in Cohasset, you have three days of events honoring and memorializing those who gave their lives for our country with those that were fortunate enough to come home.
Cohasset is a small town on the South Shore of Massachusetts, surrounded by scenic beaches and beautiful homes. During the three days of festivities,
children are waving flags, dressed in red, white and blue, while even teenagers have the good sense to remove their hats during our national anthem. It doesn't matter what your age, beliefs, or values are, our small town of 8,000 people come together for a full weekend to honor those that gave their lives for our freedom. 
This year's crowd, in particular, was much larger than the last, as growing numbers seem to be a welcoming pattern. We placed 1,056 flags within our town commons in memory of those that have served in our Armed Forces. My own father, Barry E. Sladen, Sr. U.S. Navy, USS JOHN KING DDG-3, 1960-1964 is one of those flags. 
We had a dedication ceremony on Saturday, in which our community comes together to dedicate the flags. We had wonderful speeches from several senators, but it was Senator Stephen Lynch's words that resonated with me the most. He spoke of Cohasset being one of the smallest towns on the South Shore, but having the largest turnout and support for our past Veterans, along with future servicemen and women. Cohasset takes a lot of pride in our Veterans and what they have done for our country. Speaking for myself as a daughter, granddaughter and niece of Veterans, I am forever grateful and have learned first-hand the hardships our Veterans have in their everyday life, particularly when they become ill. My father received immense support during his battle with cancer and in his final days, given care on behalf of the Veterans Services. I am so thankful for their support when my father needed it, and in-turn, will continue to donate my time and energy to fight for them as they fought for us.
This year marks the 50th anniversary of Cohasset's most devastating loss in terms of servicemen and women. During the Vietnam War in 1969, Cohasset lost five servicemen. No year, in any conflict, had ever taken such a toll on our beloved town. Every day we think of our lost soldiers and are reminded of their sacrifice. But this day,  the 50th anniversary of the loss of these five young men, we preserve their memories, honor their sacrifice, and guarantee their standing among Cohasset's finest citizens.
I hope that during your day off, with the beautiful sunshine, while attending family barbecues, at the beach, working in your yard, or simply just relaxing, that you thanked a veteran or you took a moment to pause and be thankful for your freedom. I hope that we are doing our part in teaching our children the real reason why, at this time, every year they have a day off from school. I hope…..
So that's how Cohasset and I honor our Veteran's and their ultimate sacrifice.
Cohasset Veterans of the Vietnam War - click on image below to access video: