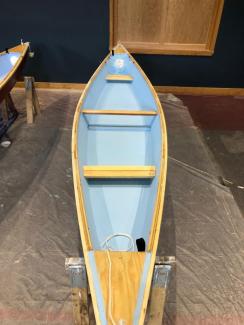 The Happiest Place on Earth (at least for shopping)
No, I'm not talking about Disney World; but rather the Natick Outdoor Store; a sporting goods store outside Boston.  My son is building a canoe as part of a high school project, for which he is thrilled as he loves to fish. 
For our household the challenge of owning a canoe is the minor detail of how to get this water craft home and transport it to local bodies of water.
We are not buying a truck to transport the canoe so the next option was to purchase a rack for one of the family cars.  Normally I loathe these random expeditions for some new device for which I have no background or knowledge.  I typically spend three to four hours doing research on the internet and come away with more questions than answers.  However, for sporting equipment and outdoor gear it is one-stop shopping.
My unabashed enthusiasm for the store started when my son decided he wanted to play catcher for his town baseball team.  The employee in the store's baseball department who helped us in had played baseball for over 10 years and still coached.  He immediately engaged my son about what position he liked to play and how long he had been playing.  The shopping errand turned into a passionate conversation about baseball.  The staff took his time explaining the sizing for the gear and the pros/cons of different manufacturers.  He wasn't selling equipment, he was explaining how to best protect a young player; while keeping a nine-year-old enthused and engaged.
Sorry, back to the canoe.  So I called the store to confirm they had racks.  30 minutes later the gentlemen in that department, an avid fisherman, was asking a lot of questions.  There was no product pitch droning on about how great a particular rack was.  Once he had an understanding of what I needed he explained the various options and the advantages/limitations of different designs.  I was leaning toward the system that was more durable but also about twice the price of other racks.  The employee then asked how long we intended to own the car.  What, now he was selling me a car too?  Turned out the more durable, and more expensive rack was designed for specific car models.  So if we buy a new car in a few years we would need to buy a new rack as well.
Passionate, very knowledgeable people helping me make informed decisions.  Did I mention that I like this store?
This article was written by Richard Ropelewski, CFP®, MBA
1-833702